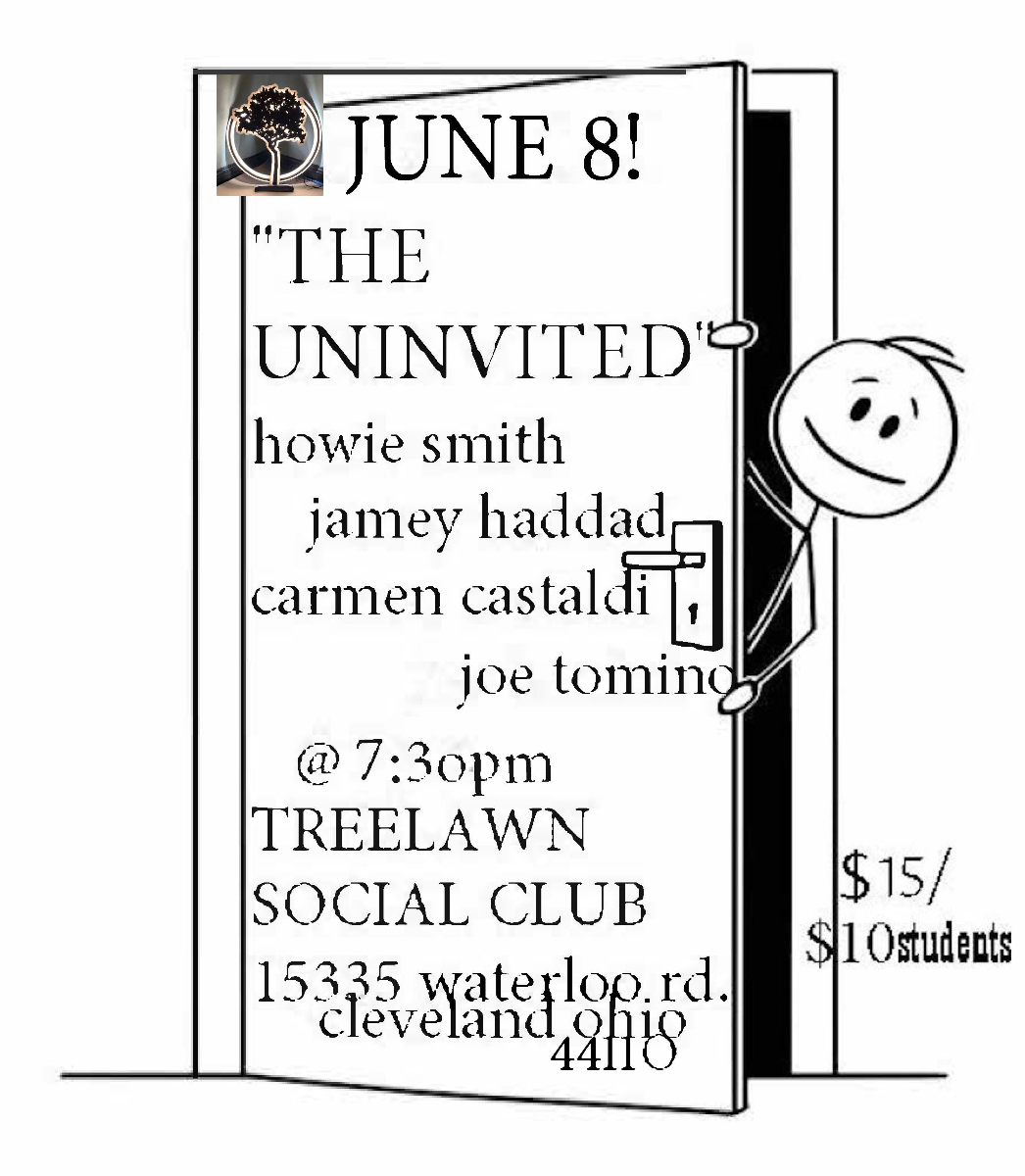 The Uninvited
The Uninvited consists of percussionists Carmen Castaldi, Jamey Haddad, and Joe Tomino, and saxophonist Howie Smith. The variety of their backgrounds and individual musical experiences, along with the non-conventional instrumentation, leads to music that has the possibility to go in any direction – or multiple directions - at any time.
---------
Carmen Castaldi emerged in the 1970s, and spent decades as a highly sought-after sideman, working with artists like longtime associate Joe Lovano, Frank Strazzeri, and Keely Smith. Graduating from Berklee School of Music in 1974, where he studied with noted performer/instructors Joe Hunt, Alan Dawson, and Ed Bobick, he moved to Las Vegas and spent much of the next decade working with artists like Keely Smith, Don Rickles, and Sonny Stitt. Relocating to Los Angeles, he continued to find performance opportunities, working with a bevy of West Coast luminaries that included Teddy Edwards, Bill Perkins, and Herb Jeffries. During this period, he was also a member of the Bob Gail Orchestra. In 2019, he paired with Lovano and pianist Marilyn Crispell for Trio Tapestry.
Jamey Haddad holds a singular position in the world of jazz and contemporary music. Haddad's musical voice transcends styles and trends, and the universal quality of his playing has attracted many international collaborations with artists including Yo-Yo Ma, Paul Simon, and Sting. Born of Lebanese descent, he is regarded as one of the foremost world music and jazz percussionists in the United States.
Joe Tomino is a Cleveland based musician, producer, yoga instructor, and plant-based chef. Joe lived in NYC for fifteen years where he played. recorded, and toured with the likes of Matisyahu, Lady Gaga, The Fugees, Mike Patton, Joe Maneri, Easy Star Allstars, Elliot Sharp, Coung Vu, Wayne Krantz, Myra Melford, Blondie, Battle of Mice and others. Joe currently spends most of his time writing and performing with his bands; Dub Trio, Birth, Togishi, and Yellowstone Apocalypse.
Howie Smith has presented concerts and workshops throughout the United States, Canada, South America, Europe and Australia, and has worked with musicians, composers and ensembles as varied as Lester Bowie, Anthony Braxton, Dee Dee Bridgewater, Gary Burton, John Cage, Dizzy Gillespie, Mark Dresser, Tony Oxley, Elvis Presley, Pauline Oliveros, the Cleveland Orchestra, the Cleveland Pops Orchestra, and the Tone Road Ramblers. His recorded performances are equally diverse and his catalogue of compositions includes works for conventional big bands and combos; for string, wind and percussion ensembles; for electronics; and for mixed media. He has been associated with Yamaha as an artist/clinician since 1971.
---
Artists
---
---